ABOUT US >>

Located at the center of a pedestrian mall, Temenggong Hotel is within easy reach of popular shopping and tourist attractions in Kota Bharu.
Call us for your reservation. We guarantee the best rates and look forward to the pleasure of serving you.Â
ACCOMMODATIONS >>
All 37 rooms are provided with all the little luxuries to keep you comfortable.

+ Fully carpeted
+ Fully Air-conditioned
+ IDD Telephone
+ Color Television
+ Electrical Outlets
+ Tea/Coffee making Facility
+ Mini Bar
DINING >>

Coffee House


Our coffee house offers a wide range of delicious continental, thai and local cuisine.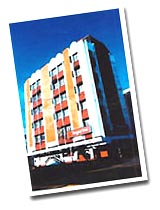 If you have any questions, or reservation, please contact us at:
Temenggong Hotel Sdn Bhd
(13610-H)
Jalan Tok Hakim, 15000 Kota Bharu, Kelantan, Malaysia.
Tel:
+609 748 3130 | +609 748 3481 | +609 748 3844
Fax:
+609 744 1481